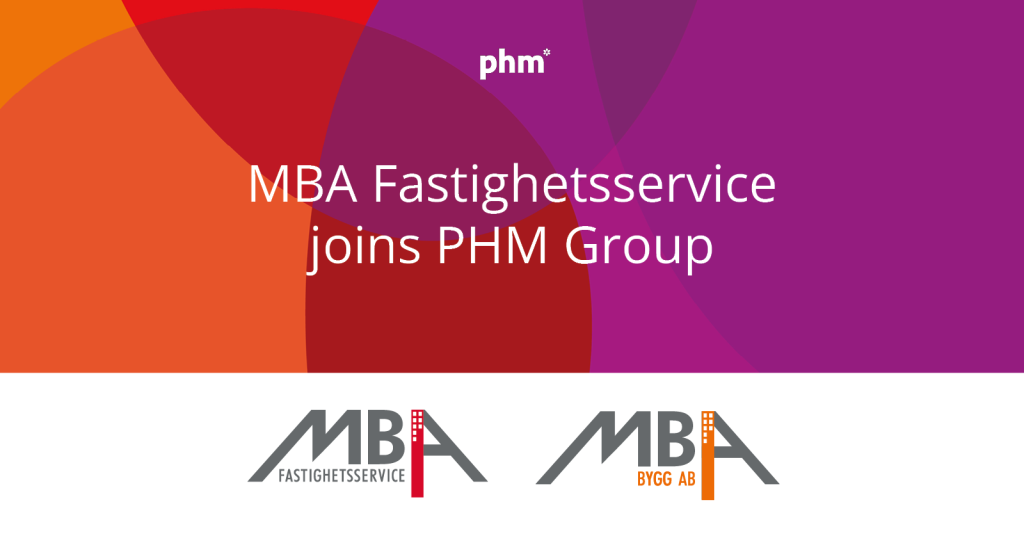 17.2.2023 | Nyheter
MBA Fastighetsservice joins PHM Group
PHM Group has acquired 100% of the companies MBA Fastighetsservice and MBA Bygg in Gothenburg, Sweden.
MBA Fastighetsservice and its subsidiary MBA Bygg, with the office in Västra Frölunda, provide a full range of maintenance and technical management services as well as related services such as construction services. The company was founded in 1995 and has today around 80 employees with a turnover of around SEK 120 million.
– We are very proud that MBA has chosen to join us in the PHM family, and we now have a firm foothold in the important Gothenburg market together with our other companies, says Andreas Westin, Country Director at PHM Sweden.
Founder Mikael Berglund will remain a partner in PHM Group, along with the company's management.
– As part of the generational change, the choice of PHM Group was easy, as a market leader in a consolidating industry combined with their unique focus on independent and locally anchored companies. I am confident that MBA together with PHM Group will be given the best possible conditions to strengthen the company's position and service offering to customers, employees and partners, says Mikael Berglund, founder of MBA Fastighetsservice AB.
In Sweden, PHM Group has 29 companies, working locally, independently and under their own brands. In total, PHM Group has over 6,800 employees in Finland, Sweden, Norway, Denmark and Germany and turnover of approximately 550 million euros.
– We are very excited to become part of PHM Group, already in the first week we have discovered opportunities for cooperation with our sister companies in the region, including how we can broaden and deepen our customer offering, says Magnus Ögärd, CEO of MBA Fastighetsservice AB.

For more information:
Magnus Ögärd
CEO, MBA Fastighetsservice AB
Tel. +46 73 429 01 01
magnus.ogard@mbafast.se
Andreas Westin
Country Director, PHM Sweden
Tel. +46 73 432 65 75
andreas.westin@phmgroup.se