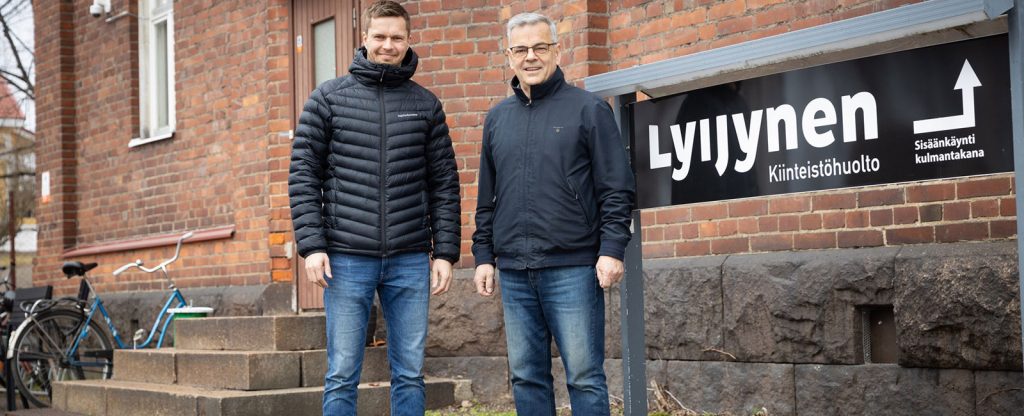 5.5.2022 | Nyheter
Kiinteistöhuolto Lyijynen was built by three generations of an entrepreneurial family
The Koskimies family from Lappeenranta has been an entrepreneurial family for three generations. Since 2003, the family has been doing property-related business – buying property and selling it one share at a time. In 2017, the business also expanded to property maintenance.
The father of the family, Jari Koskimies, comes from a family of entrepreneurs. The son, Juho Koskimies, is following in his father's footsteps, so it looks like entrepreneurship runs in the family. Juho's background is interesting – he worked in the banking sector, from which he went into the property business.
"In 2017, Juho stated that he will join our family business and start managing its property development and related activities. In the same year, we acquired Kiinteistönhuolto Lyijynen, which had started operating in the early 1990s. Since then, my son has managed the property management business independently, and I have provided my own insights into the development of the business over the years, if needed. This division of roles has worked very well for us," Jari Koskimies says.
"I started to feel stifled working in the banking sector, and I wanted to do more concrete things and work independently. As a son of an entrepreneurial family, I really wanted to try being an entrepreneur myself. We were already in the property industry, so it felt natural to include property maintenance activities. It's a basic business, but it's really important for city dwellers and the environment. This is how Kiinteistönhuolto Lyijynen ended up under our ownership," Juho Koskimies says.
Service and the well-being of personnel at the heart of everything
Kiinteistönhuolto Lyijynen employs about 70 people and is characterised by long employment relationships and engaged employees. Lyijynen provides maintenance services mainly to residential buildings but also to commercial properties in the Lappeenranta area. At Kiinteistönhuolto Lyijynen, our guiding principle has always been good service. Juho and Jari Koskimies describe their business as serving people and making their lives easier. There has also always been an emphasis on personnel and their well-being.
"Our employees are our most important resource. Our company is a great place to work, we have good team spirit and our people are happy to serve customers. We are proud of our local customer service that uses phone numbers that are already familiar to our customers. And of course I can also always be reached by phone," Juho Koskimies says.
Kiinteistöhuolto Lyijynen joined PHM Group in 2021
Juho leads Kiinteistöhuolto Lyijynen and his father Jari has acted as an advisor and mentor for him for many years. When Juho and Jari Koskimies acquired Kiinteistöhuolto Lyijynen in 2017, its revenue was about EUR 2.7 million. In June 2021, PHM Group offered the company an opportunity to join an expanding group, where it was hoped that independent entrepreneurs would continue to participate in the day-to-day business, lending their expertise to the development of PHM Group.
"Kiinteistöhuolto Lyijynen had grown to have a turnover of about EUR 4.3 million during our four years of ownership. We had, so to speak, turned an unpolished diamond into a polished one in those years. During our ownership, we also created Kiinteistöhuolto Lyijynen's energy service," Jari says.
In June 2021, Kiinteistöhuolto Lyijynen was sold to PHM Group. Juho has continued to manage Kiinteistöhuolto Lyijynen's business as in previous years before the company joined PHM Group. However, his responsibilities have expanded to include regional management in South-Eastern Finland.
"Selling a business often involves selling one's life's work, and selling one's life's work is a really big deal. Many entrepreneurs may think that when they sell the business they have built, they will also lose their independence. I can say that this has not happened with PHM Group. I have been able to continue managing Kiinteistöhuolto Lyijynen independently and locally. We are in good company, we have sold to a good operator and we have enabled our business to grow in a good environment. Everything has been clear and straightforward since the acquisition. The agreements made during the acquisition process and afterwards have been honoured and there has been no uncertainty. I am also pleased that a big owner offers completely different kinds of opportunities to develop one's own expertise and grow together with the organisation into someone who can carry out even the most demanding tasks," Juho Koskimies says.
PHM Group's support is visible all the way to the customer
For Kiinteistöhuolto Lyijynen, joining PHM Group has, among other things, improved delivery reliability and expanded fleet availability through other nearby units. PHM Group's great support makes things like reliable sourcing possible despite the global shortage of components. System development and sustainability development have also been more extensive and systematic than in a small independent company.
"In the future, developing the digital side of things as well as service channels will be more important. This will also give local operators a competitive advantage. As part of a larger whole, we will get tools for this as well. With the support of PHM Group, it's easier to solve big problems when you get leverage from the parent company – you no longer have to try to come up with solutions alone. I really appreciate being able to share experiences and expertise with other former entrepreneurs and receive peer support. This benefits all parties. I have made friends in the PHM family and received a lot of support," Juho Koskimies says.